The online check
This will give you an idea of how well your home - or the home you're thinking of buying or renting - is performing.
Once you answer a couple of introductory questions, you'll end up on this dashboard: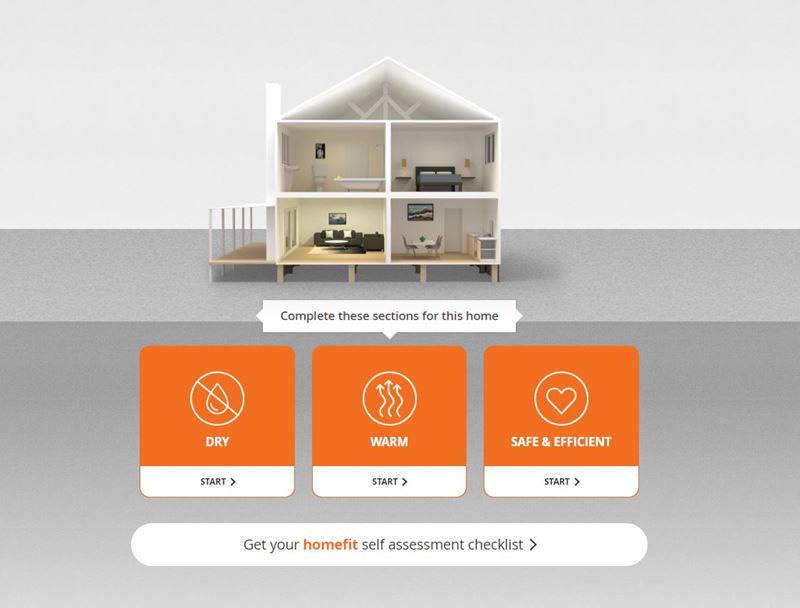 Here you'll be asked to answer 20 or so questions spread over 3 sections: dry, warm and safe & efficient. It should take you less than half an hour to complete, including some time to check under the home and in the roof space. If you know your home well, it should take you less than 10 minutes.
If you're unsure what a question means, click on the information "i" to the right of the question. This will bring up additional information on what to look for.
The online check won't give you a HomeFit certificate - for this you'll need to pay for a qualified HomeFit Assessor to visit the property. This assessment will provide a tailored report with suggestions to improve your home, and confirmation that the Healthy Homes Standards have been met.
Getting HomeFit certified
Once you've made the improvements suggested by the online check, go to "Get HomeFit certified" (on your Online Check Report) or "Find an Assessor" (on the Online Check dashboard).
This will bring up a range of local qualified HomeFit Assessors who can visit your home to do the inspection and, if your home is up to the standard, give you the HomeFit certificate.
You can email the assessors directly from this website. You will need to read and show you agree to the HomeFit Terms and Conditions. If you have contacted an assessor directly instead of through the app then please make sure they show you a copy of the Terms and Conditions before you engage them. You can find the NZGBC Privacy Policy in the dropdown menu at the top right of this page.
The assessment will take about an hour to an hour and a half and cost about $100-$300, depending where you are in the country and the size of the house. This fee includes your assessor's time, and an admin fee. You should get your report and certificate within a few days of the assessment. If you're selling or purchasing the home and need the report faster, ask your assessor - they may be able to speed things up.
What if my home doesn't meet the HomeFit Standards? If you make improvements to meet the standard within 6 months, you can have the home re-assessed and we'll waive the admin fee. Your assessor may charge for a repeat visit, so check their policy with them.
How long does the HomeFit Certificate last? A HomeFit certificate is valid for three years from the date of certification – this will be on your certificate. If you make any significant alternations to your house in this time, you'll need to have it re-assessed.  
HomeFit PLUS
HomeFit has a higher standard called HomeFit PLUS. This requires homes to have:
more insulation (including wall insulation)
more energy efficient lights
energy efficient heating
energy efficient hot water
Having a HomeFit PLUS stamp for your home will differentiate it from the rest of the market. Your HomeFit assessor will be able to tell you if it meets the standard.
Marketing a home as HomeFit
If your home is certified as HomeFit or HomeFit PLUS it will be recorded on some property websites with the HomeFit tick alongside other information such as the number of bedrooms and bathrooms. If for any reason you don't want people to know your home meets the standard then please email kiaora@HomeFit.org.nz.
The HomeFit online check report
While you're completing the online check, you can click at any time on "View your HomeFit checklist". This will bring up a short report summarising where your home is doing well and where it could do with some improvements. You can print this out at any time and/or send this as a link in an email for example. You can rename and save your assessment after you register and come back to it at any time. or add a Customer ID number if you are part of a group booking promotional offer.
Installer Directory
The HomeFit self-assessment report includes a list of local installers and suppliers who can come to your home and sort out any outstanding issues. Many of these installers are also trained HomeFit assessors who will be able to complete the HomeFit assessment once they've finished any remedial work.
The report lets you email the installers and ask them to quote for the work. We recommend getting a number of quotes to make sure you're getting value for money. Each quote should include a certification fee. Make sure your assessor has undertaken to complete the assessment and send you a HomeFit report, which includes all the details you need to know to comply with the HomeFit and Healthy Homes Standards.
I want to use HomeFit to self-check multiple properties
That's fine. Just register to create an account on the HomeFit website and you can save multiple properties. Once logged in they can be found under the "Account" button at the top right of the screen. 
This could be useful if you are looking at multiple properties to buy or rent, or you hold a portfolio of properties. Remember though that you'll need to get a formal assessment from a qualified assessor to be able to get a home certified as HomeFit.

What about the RTA Amendment regulations for rental properties?
The qualified HomeFit assessor will also check whether your home meets the insulation and smoke alarm requirements of the Residential Tenancies (Smoke Alarms and Insulation) Regulations 2016 (RTA). Even if you're not thinking about renting this home it's useful to know if it would meet the standard. It's also useful to know that the smoke alarms are working and are in the right place.
…and the Healthy Homes Standards?
The New Zealand Government has introduced new standards for rental housing under the Residential Tenancies (Healthy Homes Standards) Act (2019). This includes standards for heating, ventilation, draught proofing, moisture and drainage as well as higher standards for insulation.
If you get a home HomeFit certified, it will also meet the Healthy Homes Standards.
I want to know all the techy details about what HomeFit requires
Sure, you can find the HomeFit Technical Manual on the NZ Green Building Council website.
Needing to get a new building assessed?
If you've just built, or are about to build, a brand new home that you want to be healthy, safe and warm, then go here.
HomeFit Supporters
New Zealand Green Building Council would like to acknowledge and thank the following organisations for their role in developing, supporting and recognising HomeFit as the no-nonsense, straight forward way to assess homes as being easier to keep warm, dry and healthy.
Auckland Council
New Plymouth District Council
Wellington Regional Healthy Homes Group
Hutt City Council
Wellington City Council
Wellington Regional Council
Wellington Regional Public Health
Christchurch City Council
Dunedin City Council
Asthma Foundation
Energy Efficiency and Conservation Authority
Ministry of Business, Innovation and Employment
Ministry of Housing and Urban Development
Kainga Ora
BRANZ
University of Otago Medical School He Kainga Oranga
Massey University
Beacon Pathway
Real Estate Institute
Community Housing Aotearoa
Community Energy Network
Eco Design Advisor Network
NZ Property Investors Federation
Tenants Protection Association
Consumer New Zealand
We would especially like to thank and acknowledge the contribution of current and former members of the HomeFit steering and technical working groups. Please see the Technical Manual for a list of current members.
Additionally, the work of our installers and assessors is invaluable in maintaining and promoting HomeFit. Please see current installer directory here and the assessors directory here.